13. Bad Wimpfen.
When you visit Bad Wimpfen, you'll think you stepped into a fairy tale, with towers and spires popping up against the skyline. This ancient town, on Germany's historic castle route, was once home to the largest royal palace north of the Alps. If you climb the 167 steps to the Blue Tower's viewing platform, you'll be rewarded with stunning views of this medieval town. Two events not to miss: the Talmarkt, a celebration of fun in July, and the traditional Christmas market that is considered one of Germany's most beautiful. Best Places to Visit in GermanyPlay Video
12. Rottach-Egern
If you're looking to combine traditional red-roofed buildings, lush green trees and blue lake waters, a visit to Rottach-Egern on the shores of Lake Tegernsee is the perfect example of how to do this. Located in Upper Bavaria near the Austrian border, Rottach-Egern oozes charm and beauty. It's a perfect holiday destination where you can sail on the lake, hike trails around it and attend concerts and folk performances. With the Alps in the background, Rottach-Egern also is a popular winter sports destination.
11. Binz
dreamstime/© Szabolcs Kiss
Dating back to the 14th century, Binz is a seaside report located on the island of Rugen in the Baltic Sea. It's best known for its historic resort architecture. The former fishing and farming town has been a resort draw since 1875 when the first tourists arrived to swim in the sea. The first hotel was built in 1880 and the rest is history, with old hotels and villas filling the town center and beachfront. Binz is noted for its 370 meter (1,213 foot) pier that extends into the water.
10. Cochem
If you're like many people, you probably think hillsides are too steep for farming. You may change your mind when you visit Cochem. This small town stretches along the Moselle River, a very scenic picture indeed. Steep hills arise behind the town and on them you'll find neatly tended farm fields with forests above them. But wander the streets, where you'll find excellent examples of Baroque architecture, including timbered houses that blend into the townscape so well.
9. Mittenwald
"A picture book come alive" is how Goethe described Mittenwald. Once there, you'll agree wholeheartedly that Mittenwald is, indeed, the Bavarian Alps most beautiful village. Medieval buildings with color-laden window boxes, streetside planters with even more gorgeous flowers and a stream running through the town. With the Alps in the background, it just doesn't get much prettier than this. Enjoy a stroll down Obermarkt, the town's main street, where you'll see how prosperous Mittenwald used to be when it was an important stop on medieval trade routes.
8. Monschau
dreamstime/© Miradrozdowskihttps://f1db7889b6830c00ff07ffb8f6450c2c.safeframe.googlesyndication.com/safeframe/1-0-38/html/container.html
If you visited Monschau three centuries ago and returned today, you probably wouldn't feel you stepped into the future. That's because the outward appearance of Monschau hasn't changed very much over the years. It's still noted for its narrow cobblestone streets and half-timbered buildings. The old buildings and an outstanding music festival are among the top draws to one of the most beautiful towns in the Rhineland. Monschau is located on the Rur River near the border with Belgium.
7. Triberg im Schwarzwald
Triberg im Schwarzwald is a pretty town surrounded by green fields and nestled among the tall trees of the Black Forest. It's the most visited city in the Black Forest. In a country known for cuckoo clocks, you'll find one of the biggest in Germany in Triberg im Schwarzwald. This neat little town also is home to the Black Forest Museum, and close to good hiking trails and to Triberg Falls, one of the highest in Germany.

https://f1db7889b6830c00ff07ffb8f6450c2c.safeframe.googlesyndication.com/safeframe/1-0-38/html/container.html
6. Rudesheim am Rhein
dreamstime/© Byvalet
Looking to sample some fine German wine? Rudesheim am Rhein is the place to do it. This picturesque town in the Rhine Gorge draws about three million visitors annually; many come to taste the fine white and red wines made here. But they also come to see a town that is just plain pretty, with vineyards backing up to the houses and the Rhine River flowing in front. The architecture is interesting, with some old castles nearby. Not in a romantic mood? Try the museum of torture.

5. Bacharach
dreamstime/©


If you take a ride on the Rhine River, chances are you'll pass by – or, better yet, stop at – Bacharach, considered one of the prettiest villages on the river. Surrounded by a city wall, Bacharach's medieval half-timbered buildings sport touches of bright red accented with flower boxes. This makes for a very charming street scene. After wandering around this medieval village, rest those weary feet at the medieval market over a glass of Riesling, the city's famous contribution to the wine world.
4. Quedlinburg
dreamstime/©


If you have any pre-conceived notions of what a medieval German town should look like, Quedlinburg will fulfill your dreams. To call this town with its timbered buildings picturesque is an understatement. Multi-storied buildings line cobblestone streets that are narrow but not so narrow you can't ride a horse-drawn carriage through them. For good measure, walk through in the ancient Collegiate Church, considered a masterpiece of Romanesque architecture. Quedlinburg is one of the best preserved medieval towns in Europe. Believe it.
3. Dinkelsbuhl
dreamstime/© Anjo Kan
Dinkelsbuhl adds both character and color to the German landscape. Located in Bavaria along the Romantic Road, Dinkelsbuhl is one of Germany's few remaining medieval walled cities. Once an important city in the Holy Roman Empire, Dinkelsbuhl celebrates its rescue during the Thirty Years War with its annual "Kinderzeche" festival in July, Colorfully costumed residents impart an aura of pageantry. Must-see sights include the 15th century St. George's Church with its 12th century tower. Don't miss the summer heavy metal music festival.
2. Fussen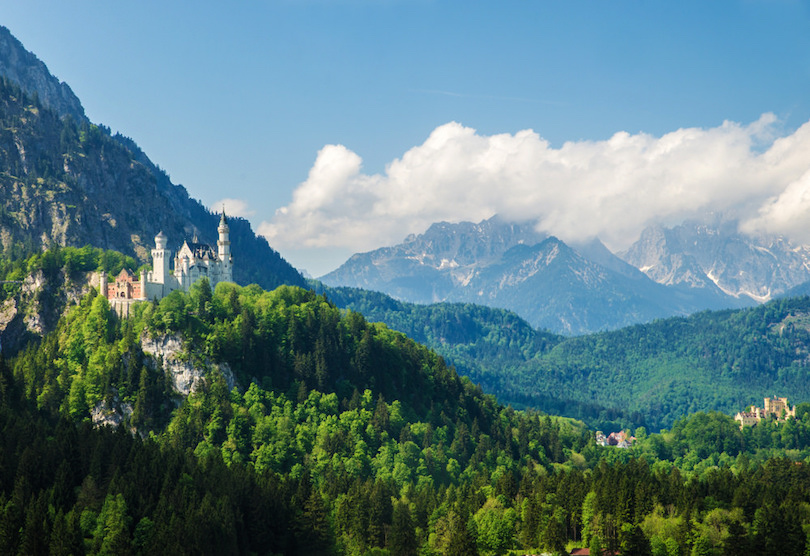 flickr/mcdri86
Settled since the time of the Romans, Fussen is a Bavarian town near the border with Austria. Located at one end of the Romantic Road, picturesque Fussen is even more so when viewed from the air: light-colored multi-story buildings with red roofs packed closely together, cobblestone streets that appear to have no rhyme or reason to them, and the Lech River bisecting the town. This historic, romantic city is the gateway to the fairy tale castle of Neuschwanstein. Fussen itself is famous for making violins.


1. Rothenburg ob der Tauber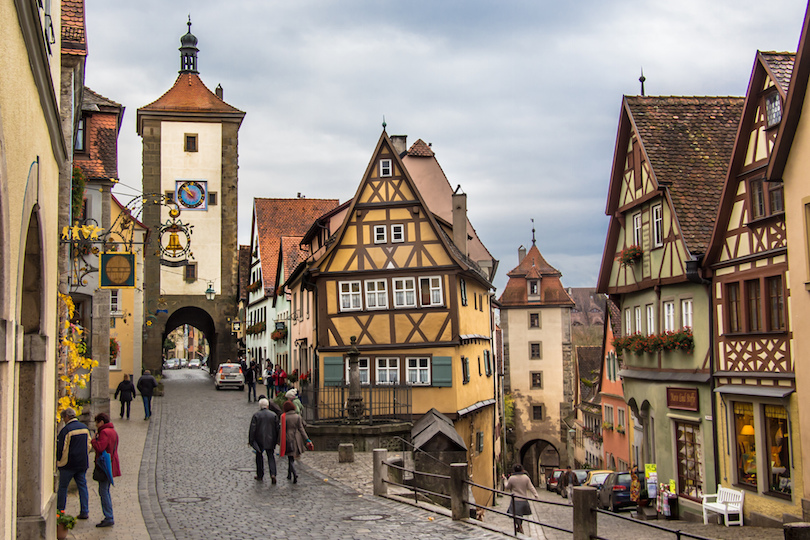 flickr/Luftphilia
If you're traveling the Romantic Road, don't forget to stop at Rothenburg ob der Taube in Bavaria. If you like things medieval, Rothenburg is one of best preserved medieval towns in Germany. This postcard town has many museums, from those specializing in the criminal element to one featuring toys and dolls. Be sure to see St. James Church with its outstanding altar screens. Movie buffs may recognize Rothenburg as the Vulgarian town in Chitty Chitty Bang Bang.